Dealer Conference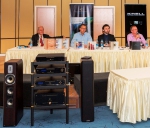 Alcom Dealer Conference took part at LES Art SPA resort from October, 5 till October, 8. The guests had an opportunity to combine the business part of the event with an active and relaxing leisure time.
Meantime the business part of the Conference was really attractive by itself - the dealers and journalists had a unique opportunity to talk directly to the legendary designers of world-famous brands represented by Alcom.
At one table had gathered James Thomson from Legacy Audio (US), Volker Hunger from Electrocompaniet (Norway), Volker Schwerdtfeger from Quadral (Germany) and Mr. van den Hul from van den Hul.
Those leading specialists in classic hi-end and modern technologies had come literally from all over the Globe to discuss with esteemed Alcom dealers current trends in hi-end industry.
All news